Article: How To Make One Page Checkout On Shopify
How To Make One Page Checkout On Shopify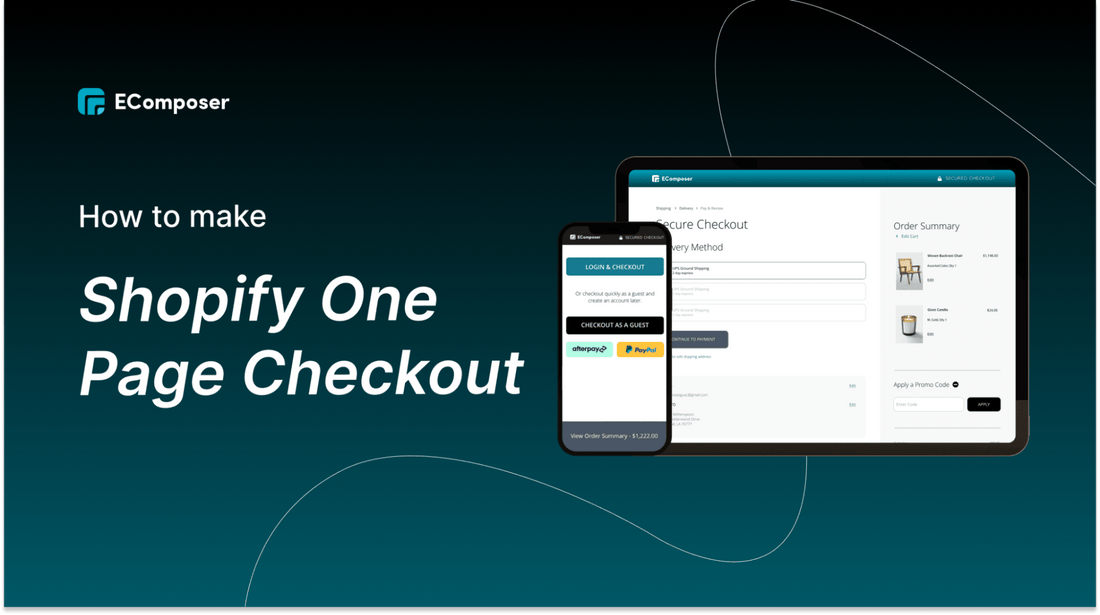 According to an Insider survey, an estimated $4 trillion worth of orders were abandoned. One of the big reasons customers decide to abandon an order is that they have to go through so many pages to complete checkout. 
To solve this problem, you can consider implementing One Page Checkout for your Shopify store. In this blog, we will explain One Page Checkout and show How to make One Page Checkout on Shopify.
Before going into the details, make sure you have built an eCommerce store on Shopify!
What is a Shopify One-Page Checkout?
Shopify One-page Checkout is a one-page online shopping experience. Here, customers can pay, view order details, and view shipping methods all on only one page.
In the past, customers had to fill out their billing, shipping and payment information and multiple pages, now they only need to enter it on a single page. This makes the customer's shopping experience better and reduces customer cart abandonment.
[ecom-global-block]ecom-shopify-trial-block[/ecom-global-block]
Pros and cons of Shopify One-page Checkout
2.1. Pros: 
Improve website performance
According to OuterBox, up to 79% of smartphone users will choose to order by phone. This means your website must be friendly on both desktop and mobile. If your checkout step takes customers through multiple pages, your customers will spend a few minutes waiting for the checkout page to load and they will give up. When you use a one-page website, customers will take up to 30 seconds to 1 minute to wait for the page to load.
Enhance customer experience
When you smooth the checkout process for your customers, they will quickly and easily complete their orders. So don't make your customers feel uncomfortable because they have to go through too many steps to get to the checkout part. One-page checkout that displays all order information and payment methods making it easy for customers to track.
Increase conversion rate
Streamlining the purchasing process is one of the advantages that One Page Checkout brings to businesses. It allows customers to add products to the cart and complete the transaction in just one seamless step. As a result, the conversion rate increases.
2.2. Cons: 
Difficulty displaying all the details
One Page Checkout allows all information to be on one page, so customers need to scroll up/down to see all the information they need. If this is done improperly, customers will easily be confused, frustrated and abandon the purchase. Therefore, when designing One Page Checkout, you need to make sure your one-page checkout is both concise and comprehensive.
Difficult to parse page data
By using many pages, it is simple to track funnel data, which shows when your consumers leave off. One-page checkout makes data analysis more difficult, which reduces the accuracy of the data that is gathered. As a result, it will be challenging for analysts to pinpoint the causes and drivers of cart abandonment so that changes may be made.
Reduce page load speed
The one-page approach may reduce the total checkout load time, but it may raise the load time for that single page. A single-page checkout might not be the best option if you need to fit a lot of information into the procedure. So, before any formal launch, a checkout page demo must be installed on both PCs and mobile devices.
How to quickly optimize conversions for Shopify one-page checkout
Increase post-purchase upsell performance
Post-purchase upsell or one-click upsell are additional products that customers can purchase after completing the checkout process. You can insert Frequently Bought Together; Recommended Product; Cross-sell product or Upsell product just before the order confirmation page is displayed. This helps you significantly increase your average order value and provide your customers with a more complete shopping experience.
For how to add cross-sell apps, check out some of the blogs below
How to Cross-selling Products for your Shopify store
12+ Best Shopify Cross sell Apps (2023)
10+ Best Shopify Frequently Bought Together Apps (2023)
Allow customers to choose payment and shipping methods
Each customer will prefer to pay with different forms as well as prefer to use different shipping units. You cannot force customers to choose any payment method or shipping method you want as this can make it difficult for them to decide to stop purchasing.
Cooperate with many shipping companies and facilitate customers to choose the payment method they want, then the value of your order will increase significantly.
Automatic location update using Google Autocomplete
Entering a shipping address also sometimes feels like a waste of time for customers. If you use Google Autocomplete, you will reduce the time spent manually entering addresses for customers. You just need to enable it on your online store so it automatically populates the town, state, and ZIP code of shoppers based on the first line of their address.
Click here to see how to enable Google Autocomplete!
Prove the security of the site
According to Statista, in 2021, 1,434,676 people said they were victims of identity theft. The majority of people filing complaints claim that they were scammed through online purchases. So now, customers are wary of checkout pages without security verification. They are willing to abandon the shopping cart when they do not feel safe. 
For your customers' peace of mind, you should add badges that show your site's credibility like an SSL certificate; payment badge; anti-virus software icon; etc…
Design the checkout page to be friendly to any device
The nature of One Page Checkout is informative, so this checkout page will need scrolling up/down to see the entire page. If you don't design One Page Checkout carefully, you could end up giving your customers a bad experience and making them never return to your store.
The number of customers using their phones to make purchases is gradually increasing and shows no sign of stopping. Therefore, when designing One Page Checkout, you should test it on both computers and phones many times so that when customers use it, they will have the best experience.
Allow customers to contact you 24/7
During the payment process, customers may encounter many problems that need to be resolved. Your customer support team should be available 24/7 to be ready to solve customer problems in a timely manner and help them complete the payment in the fastest way.
How To Make One Page Checkout On Shopify
In 2021, Shopify announced changes to their API Terms of Service, which included a note not to use any alternative to Shopify Checkout.
During Shopify's 2023 Winter Edition product release, Shopify announced that a brand new One Page Checkout feature is coming soon and will be available to all Shopify plans.
In this blog we will guide you to create One Page Checkout via Shopify Plus and use third party apps to create a "Buy now" button.
Create One Page Checkout by using Shopify default
Currently, if you want to check One Page Checkout, you must use Shopify Plus plan. 
Follow the steps below to set up:
Step 1: Log in to your Shopify Plus store admin dashboard
Step 2: Navigate to the Online Store and click on Themes
Step 3: Edit HTML and CSS, then Add New Layout
Step 4: Open the drop-down box and select Checkout
Step 5: Edit the code
Visit Shopify's very own merchandise store for a glimpse of the One-page checkout interface
Create a Buy Now button to replace One Page Checkout (Using Third-party apps)
Shopify Plus plan costs $2,000 per month, which is much more than the basic Shopify plan. Therefore, before making the switch, you should consider the advantages and disadvantages of adopting one-page checkout carefully.
Don't give up! There are still other options for you.
There are a few apps that use Shopify's new Checkout branding API and allow you to achieve the same customizations with checkout editing. You can use this app to attach a Buy Now button that takes customers to skip the add to cart step and you've simplified the customer's purchase step. 
Therefore, if you don't have enough funds and decide not to continue with a One Page Checkout, you can still improve the checkout process by editing Shopify's default checkout page.
Check out some of the apps below:
AfterSell Post Purchase Upsell
AfterSell Post Purchase Upsell is a Shopify app that helps you increase your average order value in minutes with post-purchase upsell. Because AfterSell uses Shopify's new Checkout branding API, you can modify the checkout page with order price increases and more on Shopify Plus. 
Skip to Checkout
Skip to Checkout is a quick checkout app that boosts sales and reduces the number of abandoned vehicles in your store. Skip to Checkout helps you provide customers with the products they want quickly, without going through the Cart page. You can simply customize Skip to Checkout without adding an "Add to Cart" button or any other button and the customer will go straight to the checkout page.
Instant Checkout - Buy button
On the product page, Instant Checkout ‑ Buy button will add a "Buy Now" button that skips the shopping cart and takes consumers straight to the payment page. This app is entirely dedicated to giving consumers an interactive manual that will help them go toward the "Buy now" button and stay focused on buying the item. This cuts off a step from the purchasing process, improves the mobile web experience for your visitors, and boosts conversion rates.
[ecom-global-block]ecom-shopify-trial-block[/ecom-global-block]
To Sum-up
Above is some information about One Page Checkout and how to make Shopify One Page Checkout. If you want more information or want to learn more about EComposer, follow us at ecomposer.io or click on the message icon located in the right corner of the screen.
=================
Add EComposer Next generation page builder Here
Follow Us on Facebook
Join Official Community
Related Post
How to create and optimize Shopify Thank You Page (+ 5 best templates)
How to make a stunning gallery page on Shopify stores
How to add sections on your Shopify pages
How to customize Shopify product displays by EComposer Product Box
How to Create a High-Converting Shopify Product Page
Top 16+ Best Shopify Dropshipping Stores Designs + Tactics
‍